Harpe Development would be proud to help you build a house in Kenosha County! It is our goal to make your building experience enjoyable and stress-free! Honesty, transparency, and accountability are the basis of our business and we understand that building or buying a home is one of the biggest decisions and investments you'll ever make in your lifetime. With that in mind, we make sure that our clients never feel rushed or overwhelmed at any point during the process!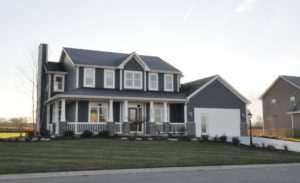 Build A House in Kenosha Without the Pressure!
We do not employ commission-based salespeople at Harpe Development, so you won't feel any pressure! When contacting us for the first time, you will be dealing directly with our owner, Dustin Harpe, or Phil Anderson, our General Manager and Designer. During construction, you will have a direct pipeline to your dedicated Project Manager and Interior Designer to help breathe life into your new home. In conjunction with our state-of-the-art selections software and impeccable scheduling, we strive to ensure you always feel informed and have your questions answered and your concerns are addressed.
We will build your plan, our plan or design something completely custom for you


Whatever path you take your home will be customized to your individual needs and specifications
Everything from start to finish is conveniently located right at our office and showroom in Kenosha, so we won't be sending you all over Southeastern Wisconsin to come up with your home design or make selections.  Our in house home designers and interior designers will work right alongside of you to make your home design process as smooth and easy as possible.  With over 3,000 square feet in our design center, Harpe Development provides endless products and finishes to make your home uniquely yours! 

We guarantee that you will receive the highest quality, energy-efficient home at an unbeatable price!
Belgium, Ozaukee
Big Bend
Cedarburg, Ozaukee
Delafield, Waukesha
Fredonia, Ozaukee
Genesee, Waukesha
Germantown, Washington
Grafton, Ozaukee
Hartford, Washington
Hartland, Waukesha
Jackson, Washington
Mequon, Ozaukee
Merton, Waukesha
North Prairie, Waukesha
Polk, Washington
Port Washington, Ozaukee
Richfield, Washington
Slinger, Washington
Summit, Waukesha
Trenton, Washington
Vernon, Waukesha
Wales, Waukesha