Harpe Development we would be more than happy to be your home builder in Mount Pleasant WI! Our home builders are professional and have experience with all home styles! Our goal is to make the building processes enjoyable and stress-free. Honesty, transparency, and accountability are the basis of our business and we understand that building or buying a home is one of the biggest decisions and investments you'll ever make. With that in mind, we make sure that our clients never feel rushed or overwhelmed at any point during the process!
Your Quality Home Builder in Mount Pleasant WI!
Everything from start to finish is conveniently located right at our office at Harpe Development in Mount Pleasant WI. Our in-house home designers and interior designers will work right alongside you to make your home design process as smooth and easy as possible. With over 3,000 square feet in our design center, Harpe Development provides endless products and finishes to make your home uniquely yours! We guarantee that you will receive the highest quality, energy-efficient home at an unbeatable price.
Take a look at our new luxury ranch condominium development Spring Trail in Mount Pleasant! Our award-winning luxury condominiums are under construction now!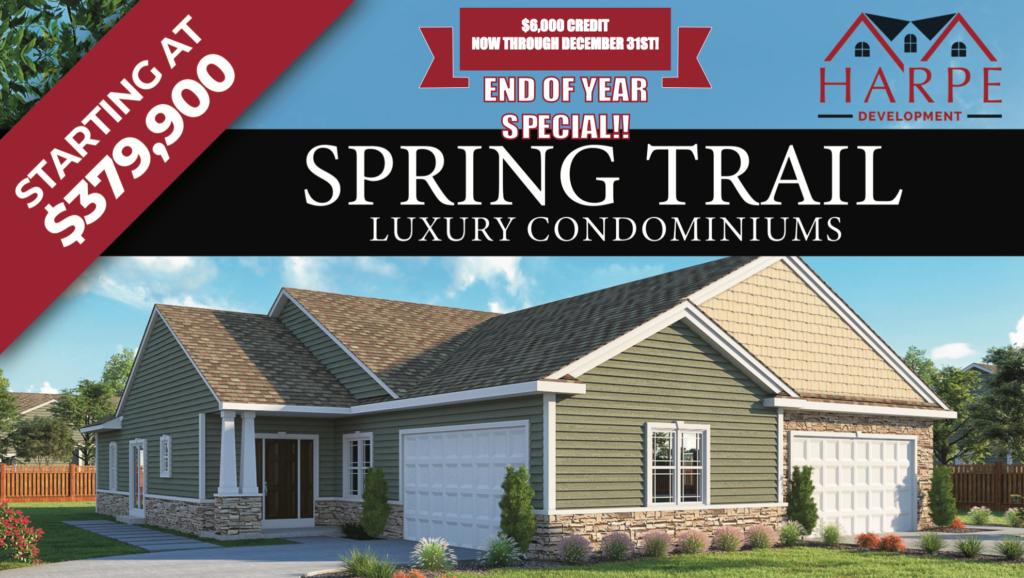 Belgium, Ozaukee
Big Bend
Cedarburg, Ozaukee
Delafield, Waukesha
Fredonia, Ozaukee
Genesee, Waukesha
Germantown, Washington
Grafton, Ozaukee
Hartford, Washington
Hartland, Waukesha
Jackson, Washington
Mequon, Ozaukee
Merton, Waukesha
North Prairie, Waukesha
Polk, Washington
Port Washington, Ozaukee
Richfield, Washington
Slinger, Washington
Summit, Waukesha
Trenton, Washington
Vernon, Waukesha
Wales, Waukesha